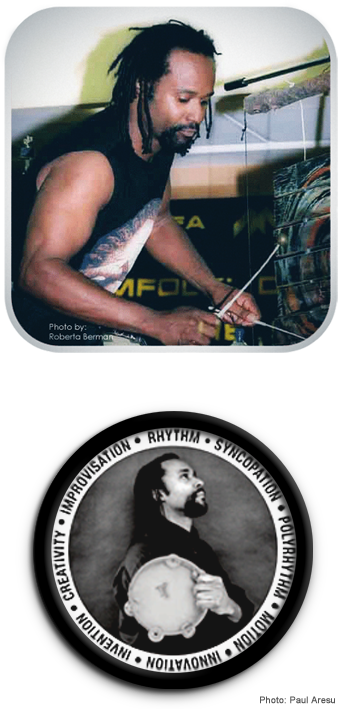 David Pleasant is a multi-faceted percussion virtuoso, rhythm effects vocalist, avant-garde performance artist, Storyteller and lecturer who specializes in African-American traditions. Born in Savannah, GA and raised in McIntosh County, Pleasant grew up immersed in the rich Gullah/Geechee (Georgia and South Carolina Sea Island) culture, which thrives in that area. The Gullah culture, particularly juba, hand jive, pattin', `rhappin'' and shout has played a major role in the development of David Pleasant's RiddimAthon!®, a performance and teaching method developed from a synthesis of African, Caribbean and African American musical traditions. Using assorted drums, cymbals, tambourines and marimbas, as well as the body percussion rhythms of shout, juba, and jive, RiddimAthon!® aims to get everyone singing, dancing and clapping.
Pleasant is a Fulbright Senior Specialist who presents his work at universities and institutions worldwide. He is also a critically acclaimed, award-winning composer/performer and soloist who has worked with Tony and Grammy Award artists such as: Audra McDonald, Regina Taylor, Graciela Daniel, Paul Simon, Jonathan Tunic, Wynton Marsalis, Michael John LaChiusa, Erykah Badu and others.
Gullah/Geechee culture has influenced over 25 years of Pleasant's work which has been featured from Broadway to television to dance. Pleasant's collaborations with major choreographers and companies such as Jawole Zollar (Urban Bush Women), Ron Brown, Dianne McIntyre, Jane Comfort, Padro Harris, Marlise Yearby, Abdel Salaam (Forces of Nature), Batoto Yetu, Step Afrika! and others support his belief in high artistic standards and educational relevance.
As a creator of the groundbreaking arts and education program Talent Beyond Words, he is currently developing Rhythms of Resistance, a synthesis of African American/Gullah/Geechee cultural and political history as told through the drum. Recently spotlighted on CBS 2 News, the Rhythms of Resistance program ties into Pleasant's career long efforts of presenting Gullah/Geechee influenced culture/politics in mainstream venues.
Pleasant has been a New York musician for over 20 years, and whether sideman or solo artist, he presents a dynamic interactive journey in music, using a bewildering range of percussion instruments in unique arrangements of standard and original compositions. Theatre.com has called Pleasant "an explosively gifted percussionist," and Time Out New York described his performance as "wall-to-wall music-gospel, hip-hop, drumming-African flavored dance…the music carries us across the Deep South, through urban streets, to the Caribbean and Africa, all in the space of a frenetic drum solo (by workhorse percussionist David Pleasant)."
Partial list of articles by David Pleasant
Pleasant, D. (1991 Dec.) Beyond the Backbeat II. New York North End News, 8,18.
Pleasant, D. (1989 May). Beyond the Backbeat. Stono, 24-25.
Pleasant, D. (1989 June). Interview with Jawole Zollor. Stono. 27-29.
Pleasant, D. (2004 Jan.). The Drum Is A Voice. Brooklynrail, 10-11.
Pleasant, D. (2004 Aug.). Drumfolk. Brooklynrail, 20-22.
Pleasant,D.(1988). Multi-dimensional/Multi-planar music. Multi-dimensional/Multi-planar Journal. New York, NY: David Pleasant.
Pleasant, D. (1997). The Drum/ Encyclopedia of World Slavery, Vol.1. Santa Barbara: ABC-CLIO.
For more information please Google search:
DAVID PLEASANT PERCUSSIONIST
David Pleasant / NoW Griot
RiddimAthon!™Inc.

FAVORITE QUOTES

" Jedus tell um say…yeh dat be true, but sho'ly de one wha bless de mores
de one wha yeddy God wod an' do wa God tell um fuh do!"
Luke:11:28
Gullah Bible

"As static it reveals the superlative combination of compounds of matter; as a moving event it represents the most intricate time pattern in nature. Life is exquisitely a time thing like music. And beyond the plane of life, out of infinite time, may have come that harmony of motion which endowed the combination of compounds with life."
Ernest Everett Just
Cytologist
PSALM 150

"God is the Greatest Drummer!!" -- David Pleasant
CONSULTANT

Pleasant collaborated in the development of Americas' first Gullah studies course at the
University of Tennessee. His article "The Drum" is also featured in the course syllabus. He has presented lectures for the anthropology, history, dance or music departments at University of Haifa, Israel, N.Y.U and Columbia and has served as a clinician for International Association of Jazz Educators in N.Y. and Canada.
Other published writings by Pleasant also emphasize the percussion traditions and influences of early African American forms. Pleasant recently completed the curriculum document Rhythms of Resistance, which premiered as a pilot program in a Red Hook Brooklyn school and culminated in the Rhythms of Resistance performance/ Dancing in the Streets. He is presently composing/choreographing percussion works for the international body percussion ensemble STEP AFRIKA! Pleasant will guest artist with the group this spring in Washington, D.C. and will continue as the group's rhythm coach. Their work explores the history, legacy and technique of pre-jazz traditions.
His work also appears in the N.Y.C D.O.E. Multi -Cultural curriculum book and video series and the short film Talent Beyond Words featuring Wynton Marsalis. His work with the groundbreaking Talent Beyond Words program along with his courses at Bloomingdale School of Music spawned a movement of poly rhythmic percussion ensembles nation wide. Pleasant has often been a guest presenter for Kodai and Orff training institutes as well as numerous teacher /staff development courses. An unpublished manuscript, Riddimathon!, codified by jazz guitarist/clinician Rory Stuart chronicles Pleasant's early work in developing the Riddimathon approach. Pleasant has been quoted on his Gullah percussion philosophy in numerous publications including: N.Y. Times, New Yorker, L.A Times, Daily News, Time Out, Gifted Child Quarterly, Washington Post, New York Magazine and others. He is currently developing a show piece for Nickelodeon network that will introduce youth to Gullah percussion forms. Pleasant will also present at the International Gullah/Geechee Music and Movement Festival and the Penn Center Gullah Studies Institute summer 2006.
Pleasant is a Fulbright Senior Specialist and can be brought to various international institutions by contacting: www.cies.org/specialist

HISTORY
The 25 + year career of David Pleasant includes professional experiences in music, visual art, television, theater, poetry and performance art. At 18 years of age he won the Allie Egan Walls award for poetry; became a finalist in a state wide poetry competition and was one of the youngest members of the Georgia poetry society. His appreciation for words supports an African regard of the speaking drum. Pleasant would go on to create a range of prose, poetry lyrics and transcriptions for percussion that built upon the notion of the drum as voice. As a member of a family that thrived with visual artists on both the maternal and paternal sides, Pleasant naturally gravitated towards dance. There he found a combination of the speaking drum in movement and the visual aesthetic in motion. He developed and composed the original percussion score for the groundbreaking Urban Bush Women work "Shelter" and co-choreographed the group's first body percussion/stepping piece(1988). As UBW'S guest artist, Pleasant danced solo and support roles featuring his own choreography and that of Jawole Zollar.
The sounds, rhythms/riddims of his upbringing on Sapelo Island, Darien/McIntosh County and Savannah resonate with the remarkable history and experience of Gullah/Geechee culture. The songs, drum rhythms and movements taught to him by his mother (drummer, teacher) Sadie B. Pleasant underscore his life long exposure to this poly rhythmic heritage that incorporates music, movement, theater, art, poetry and rhythm in every day life.
Aside from his experience in mainstream arenas, Pleasant also has worked with a number of Grass roots and Jazz legends that include:
Charles Gayle, Oliver Lake, Cecil Taylor, Daniel Carter, Leroy Campbell, William Parker, Dr. Lonnie Smith, Greg Bandy, Vivian Reed, Melvin Gibbs, Cheryl Byron, Laroque Bey, Zusan Kali, Atiba Wilson, Jerome Hunter, Reggie Workman, Christian Mc Bride, Don Byron, Jack DeJonnette, Larry Riddley, Marlene Rice, Zane Massey, Cooper-Moore, Sirone, Lilias White, Peter Erskine, Mark Johnson, Mike Manieri, Craig Harris, the Muppets, Duma Nlovu, Thandeka, Cederic Brooks, Majorie Wiley, Barry Moncrieff, James Williams, Ernie Krivda, Patric Brennen, Amina Claudine Myers, Jamie Haddad, Anthony Braxton, Jason Linder, Matt Schulman, Culture, The Winans, Harry Belefonte, Paul Simon, Welcome M'Somi, E' Marcus Harper, Arrested Development, Leon Dorsey, Fred Ho, Jayne Cortez, hattie gossett, Calvin Herndon, Abdel Salaam, Step Afrika!, Jane Comfort, Batoto Yetu, Ron Brown, Padro Harris, Dianne McIntyre, Marlise Yearby, Sekou Sundiata, Savannah Symphony Orchestra, Stamford Symphony, Orchestra of St. Lukes (education), Oberlin Contemporary Ensemble, El Piccolo del Opera Orchestra, Essential Music
Along with his mentor, jazz composition great Wendell Logan, Pleasant studied in Jamaica in the early `80s.There he visited an evening service of the Revivalist cult. The group was actually developed by a preacher from Savannah in the late 1700s.
They played drums similar to the style played in Savannah and the Low country by marching band "rhappers". Pleasant grew up both hearing and playing this style. Further exploration of this fact led Pleasant to develop Riddimathon! a performance/teaching philosophy which emphasizes percussion forms developed in the U.S.A. by early Africans (Gullah) and that carry on an African and Caribbean connection. A number of extraordinary musicians and performers have worked in Pleasant's Riddimathon! ensembles and workshops. They include: Miles Griffith, Vattel Cherry, Lyndon Achee, Mike Mossman, James White, Joyah Pugh, Nick Russo, Rosena Hill, Allison Mondesir, Gary Swindell, Miriam Sullivan, Marquetta (Queen Quet) Goodwine, Craig Rivers, Goussy Celestine, Marion Bell, Hasan Bakr, Tracey Cook, Kid Lucky, Dawn Norfleet, Thuli Dumakude, Rod Jackson, Kahlil Kwame Bell, James G. Williams, Frank Lacy, Nia Love, Stafford Hunter
Pleasant has been blessed to develop work with fearlessly innovative choreographers, performers and/or institutions such as: Nia Love, Sham Mosher, Michon Boston, Ronald Grey, Ed Love, Forces of Nature, Linda Twine, Jalal Pleasant, Cynthia Oliver, Hank Smith, Andrea Woods, Rod Jackson, Elie Wiesel, They Might be Giants, Def Dance Jam Workshop, Black Burial Grounds: The Inception, Black Burial Grounds: Rites of Ancestral Return, MTV Unplugged, Reading Rainbow, The Museum of Natural History NYC, Bank St. College, Dancing in the Streets, Arts Connection, Onye' Ozuzu, Schomburg Center, Penn Center, Sankofa Circle, Patrick Stewart, Young Audiences, Step Afrika!, Nick Russo, James MC Bride, Jonathan Demme, Marion Coles, Alfonso Ribiero, Tina Pratt, Roberta Berman, Diane Walker, Delroy Lindo, Lavar Burton, Janet Hubert, Andrew Nemr, DJ Spooky, Toshi Regan, Carl Hancock-Rux, Jawole Zollar, Pat Hall and others.
ART
Pleasant has also worked as a visual artist. He has had commissioned pieces premiere at Spoleto Festival and at Alice Tully Hall. His percussion artifacts have been on display at Lincoln Center library of the performing arts and he has been the subject of a sound and sculpture exhibit at the Lincoln Center gallery. Other works by Pleasant belong to personal collections the most recent of which showed at the Three Generations of Pleasant event at the Ralph Gilbert Civil Rights Museum Savannah, GA.
Pleasant has two pending patents for his innovative design and utility work in ergonomic robotics. His association with artist Roberta Berman has yielded a unique drum design by Pleasant featuring the bold art work of Berman (2Dpercussion!). The drum has been sold in Drummers World N.Y.C. and has been featured in performances worldwide.

Roberta Berman's work has served as a sonic template for number of David Pleasant's performances and recordings. Her hand carved and engraved signature series drum called "David" is part of a group of Roberta Berman Sound Sculpture/ Jazz with Sculpture work endorsements for Pleasant.

Pleasant's theater work includes:
Marie Christine
Tempest (Sir, Patrick Stewart)
Golden Boy
CROWNS
Praise House
Ballad of the Black Cowboy
Wade in the Water
Three's the One
Islands
The Warrior Ant
SCIENCE
The Ernest Everett Just quote, "As static it reveals the superlative combination of compounds of matter; as a moving event it represents the most intricate time pattern in nature. Life is exquisitely a time thing like music. And beyond the plane of life, out of infinite time, may have come that harmony of motion which endowed the combination of compounds with life" encapsulates Pleasant's respect of music as a significant force in the physics of being. He collaborated with journalists Robert Krulwich and Ted Koppel for the series "Brave New World" in 1999. The show featured the work of string theorist Brian Green (The Elegant Universe). The program concerned the science of real and metric time. Pleasant wrote and published a long essay in 1986 called Multi-dimensional/ Multi-planar Music that parallels features of string theory by way of an African drum/rhythm ethic. Pleasant was featured in the series and promos and also provided underscoring for the show. He went on to write "Densemetrix": a series of articles on the harmony of rhythm and the social/political/historical role of African inspired culture. Portions of that work have been published as DRUMFOLK and The Drum is a Voice.
His other work in broadcast news includes scores for Nightline, Peter Jennings Town Hall and Evening News with Peter Jennings.

" David Pleasant...an explosively gifted percussionist"
-Theater.com